Continuing with the
A to Z Blogging Challenge
, the letter of the day is
C
.
Here in Lake Charles, we have a wildly popular two-week festival called
Contraband Days
, which celebrates
PIRATES
! From a historical context, Jean LaFitte was a notorious local pirate. According to legend, LaFitte hid buried treasure along the banks of Calcasieu River bayous. Festival begins April 28.
Arrrggh, matey!
One of the highlights of the Contraband Festival is the
Tour LaFitte
bicycle ride. I've participated in this event three times. You can read my posts about that bike ride
here
and
here
.
Bob and I and our "bicycle built for two."
Here's a fun video about Contraband Days, where the pirates make our mayor walk the plank!
Sponsored by the Lake Charles Chapter of the Cajun French Music Association, the
Cajun Food and Music Festival
will take place July 15-16. This was one of the first festivals my family and I attended, back in our 2007 "summer of immersion." Everything Louisiana-related was so brand new to us then. We learned about Cajun music, mesmerized by the dancers. We ate new-to-us foods like gumbo and jambalaya and banana pudding. I was fascinated and excited for the opportunity to experience, truly, a completely different culture from anything I'd ever known. Cajun food, music, arts and crafts -- it was a wonderful introduction to our new home. Read more about this festival
here
.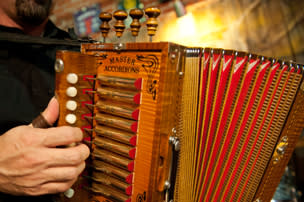 One of the most challenging things we had to learn upon moving to Louisiana was how to peel and eat crawfish. There are several techniques, and it's an acquired and necessary skill if you live in La. Breaux Bridge is known as the Crawfish Capital of the World. They've been hosting the annual CrawfishFestival since 1960. This year, the event is scheduled for May 6-8. Over thirty bands, mostly cajun, zydeco, and swamp pop, will entertain the crowds. And of course, food. Fried, boiled,in

étouffée,bisque,boudin, jambalaya, and crawdogs.

Who knew crawfish could be prepared so many different ways! In addition to food and music, you'll experience crawfish races, crawfish eating contest, dance contests,

étouffée cook-off, parade, and carnival rides. I've not been to this festival, but I did do a crawfish drive-through shack crawl one Sunday afternoon. You can read about that adventure here.
Stay tuned! Tomorrow you'll read about a duck festival.